New Products Just Arrived
Karma beads $20.00 - $22.00
Description
Karma bracelets - real gemstones  $20.00 to $22.00  Choose gemstones and wood beads. For additional $2.00 add Lava stones to drop your favorite essential oil or perfume on.  Great Gifts for both him and her!!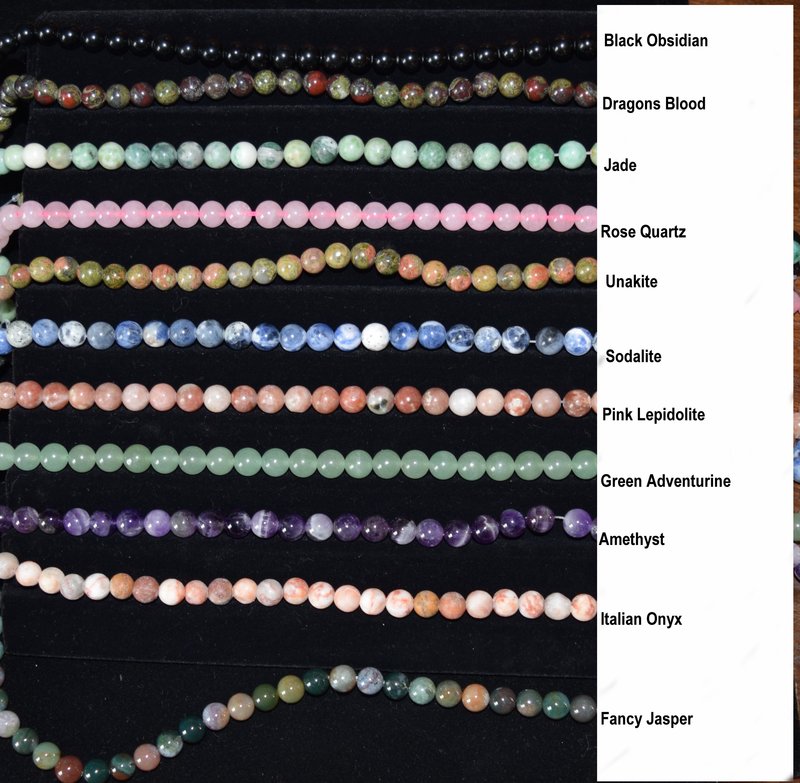 Black obsidian
Protects
Removes negativity
Detoxifies
Physic protection
Rose Quartz
Stone of the heart
Love, compassion and peace
Healing
Unakite
Healing of the heart and mind
Brings love, compassion, kindness,
Joy, and harmony
Helps you through difficult situations
Draws off negative energy
Italian onyx
Warriors stone
Courage
Healing energy
Relieves stress
Helps to alleviate grief sorrow
and depression
Jade
Nourishing energy
Healing
Protects
Good Luck
Love
Sodalite
Stone of truth
Stimulates creativity
Calming
Healing
Rids fear and guilt
Pink Lepidolite
Protects
Relieves Stress and anxiety
Good for Sleep
Drives away negativity
Helps one going through life's changes
Green Aventurine
Stone of Luck, prosperity and wealth
Soothing for stress and anxiety
Success
Ocean Jasper
Stone of joy,
Protection,  and strength
Calming and healing
Good for stress
Releases negativity
Dragons Blood
Very protective stone
Healing
Strength, courage and vitality
Balances mind, body, and spirit
Lava Rock
An Energy Stone
Enhances Creativity
Gives Strength and courage
Helps stability though times of change
Will carry the aroma of healing oils (essential oils)
(Dip in salt water to release fragrance)
Yellow Turquoise
(The Master Healer)
Some stones will have energy that responds to a magnetic field
Very healing for physical emotional and spiritual trauma
Protective
Enhances creative energy
Amethyst
Gives the wearer power and success
Promotes calm, balance and peace
Eliminates impatience
Healing
Protects
Clears negativity and detoxifies
Angelite
The stone used to contact Angels with
Helps develop spiritual and psychic powers
Attracts Wealth and Love
Gives energy
Relieves depression and anxiety
Dispels fear and anger.
Improves mental and psychological health
Fancy Jasper
Stone of Strength, courage and determination
Stimulates creativity and imagination
Balances mind, body, and spirit
Enhances feelings of well being
Brings joy
Relieves fear, guilt, and frustration
Builds inner strength and confidence
ocean Jasper - Protects, healing, joy, and relieves stress and worry.

Italian onyx - The healer of sorrow and grief, protects and sharpens the sences.
All beads are paired with wood for added Luck and Wealth. (Specify light or dark wood).